Derived from
None. Self-made deck here.
A confuse lock ally focused deck…am I sure this is an Aggression deck? Not entirely…maybe more of a purple deck than red.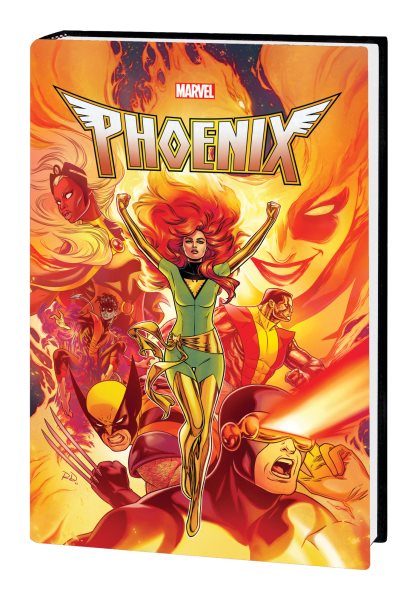 This deck isn't as explosive damage as Jean in Leadership, https://marvelcdb.com/decklist/view/23099/phoenix-from-the-ashes-1.0, but you get a thematic X-Men Team deck that is very consistent.
---
Phoenix is a hero with two strong phases. She begins the game with a fantastic economy, able to get set up and afford doing multiple things at once. Once she's set up, she can Unleash, giving her some of the strongest hero cards in the game. This is balanced out by her having hero cards under the curve until then. For solo players it's common you'll be restrained most if not all game to make the most of Jean's Thwart.
Until we get to the second phase, Jean's resources are often better used elsewhere rather than on her events. So until that time, we build the Jean Grey Institute. Priority gets are Cerebro and Danger Room. Forge should be the first target to get with Cerebro if he's not already in hand. With Jean's resource economy, you can get all 3 down turn one(!)
While restrained, you have access to 6 confuses in deck, with a bonus 2 once unleashed! Even steady villains will be vulnerable to all of the confuses, and although Stalwart villains don't care about that impressive number, Jean always has excellent built in Thwart to challenge their scheming.
In Hero form you have 24 targets that can benefit from Team-Building Exercise, and with a Power Counter you can play cards like Psychic Assault for free(ish). I recommend using TBE on events over allies as you get more value playing a hero from Alter Ego. Why? To get free Attack Trainings from Danger Room! It's a good feeling when you pay for an ally with Attack Training, just to attach it to them. X-Mansion keeps your allies topped off.
Surprise Attack is a flex spot, although I personally love it. It's also currently my favorite way to Unleash. Swap to Hero, use the last power counter do 4 with the attack aaaand surprise! It's about to be a rough turn for the villain. If you prefer, Game Time is what I used before Surprise Attack and it's amazing as always, but you could also do Meditation.
But...what about her nemesis? Dark Phoenix is definitely a tempo hit as you have to often spend a turn dealing with her, but Wolverine and Psylocke both can set her up for an easy take down. She's a tough nemesis, but nowhere near the likes of Enchantress imo.
To review, this deck gives you constant ally damage and shows off just how strong the X-Men supports are. It gives you 6(8) confuses in an Aggression deck and a hero that can often delete side schemes. It's thematic, consistent, and fun to see just how much you can do in a single turn.
Thanks for checking this out!
Edit* as Boothwah pointed out in the comments, Team-Building Exercise is a hero action only, so you can remove the Honorary X-Men for a third copy of your preferred event, or even another X-Men ally. Thank you for reminding me it's a hero action!