Gregario
Accuser Corps. Elite. Kree.
Attack: 3. Scheme: 3. Punti Ferita: 9.
Toughness.
Ronan the Accuser cannot be stunned.
Forced Interrupt: When the villain phase begins, Ronan the Accuser engages the hero with the fewest remaining hit points.
---
Boost
: Put Ronan the Accuser into play engaged with you.
Boost:
Set Modulare Ronan #1. Fanatici Kree #1.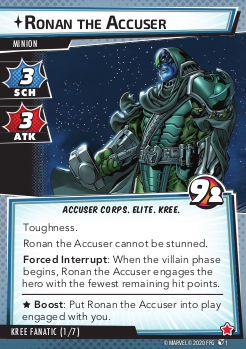 No review yet for this card.