Trama Principale. Stage 1
Contenuto: Thanos I e II (Thanos II e III invece per modalità esperto). Set di incontri Thanos, Guanto dell'Infinito e Standard. 2 set modulari (Ordine Nero e Figli di Thanos). Vedi l'inserto delle regole per le regole relative al Guanto dell'Infinito.
Trama Principale. Stage 1
Starting Threat: 0. Escalation Threat: 1.
Threat: 12.
Thanos ha incorporato tutte e sei le Gemme dell'Infinito nel Guanto dell'Infinito. Ora deve solo padroneggiare il potere per mettere in atto il suo piano genocida.
Quando Rivelata: Metti in gioco 1 carta dalla cima del mazzo delle Gemme dell'Infinito. Cerca nel mazzo degli incontri la trama secondaria Santuario e rivelala. (Mescola il mazzo degli incontri.)
Contents: Thanos I and Thanos II (Thanos II and Thanos III for expert mode). Thanos, Infinity Gaultlet and Standard sets. Two modular sets (Black Order and Children of Thanos). See rules insert for The Infinity Gauntlet rules.
L'Ombra del Titano Folle #114. Thanos #4.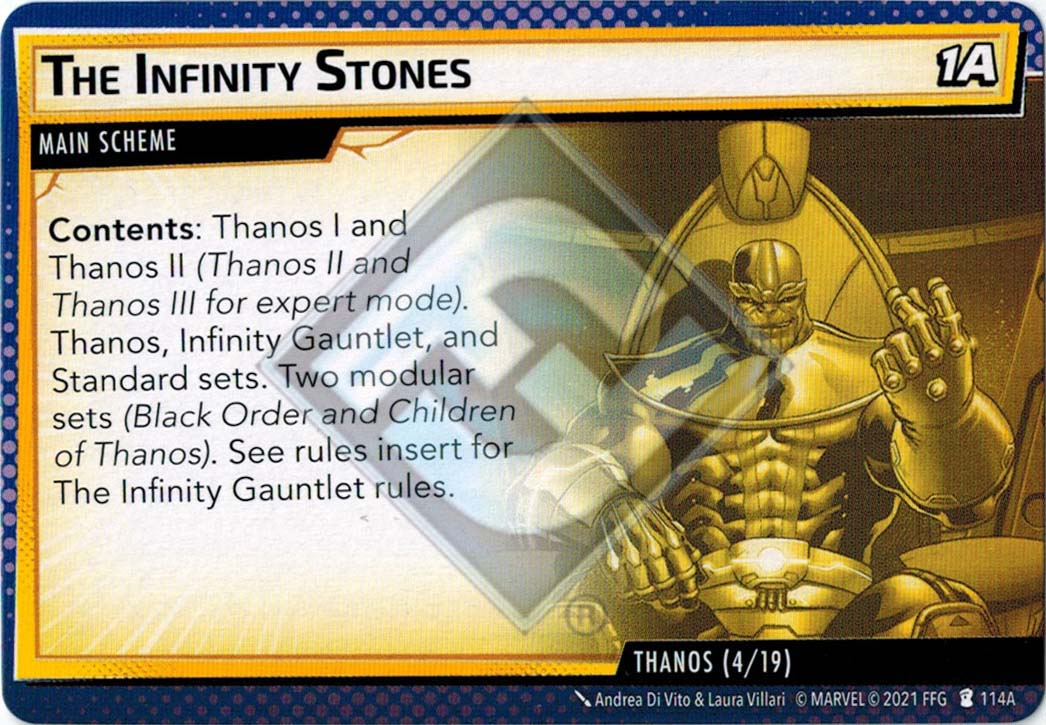 No review yet for this card.