Trama Secondaria
Starting Threat: 2.
Hydra Soldiers perform routine patrols to maintain control of their territory.
Quando Sconfitta: Ogni giocatore cerca nel mazzo degli incontri e nella pila degli incontri 1 gregario Hydra e lo mette in gioco impegnato con lui. Mescola il mazzo degli incontri.
Boost:
Andrea Di Vitto & Laura Villari
L'Ascesa del Teschio Rosso #154. Pattuglia dell'Hydra #6.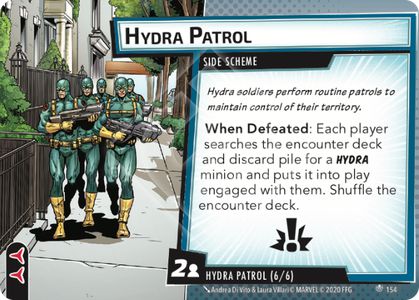 No review yet for this card.